Welcome to
Government General Degree College at Pedong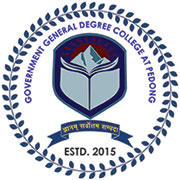 The hilly region in the North part of West Bengal has always been a centre of attraction for the people of pan India for its discrete and unrivalled beauty of diversified natural landscapes. Government General Degree College at Pedong affiliated to the University of North Bengal has in fact enhanced the charming appeal of the region to a considerable extent.
Established in 2015 on 5 acres of space for its smooth functioning, the college is basically situated upon a maiden hill skirted by fresh greeny backdrops, 22 Kilometres away from Kalimpong town. Born out of the tireless efforts of the conscious civil society of Pedong and the good will of the Govt. of West Bengal the institution is really deemed to be a milestone for the educational progress of the region and the surroundings as well...